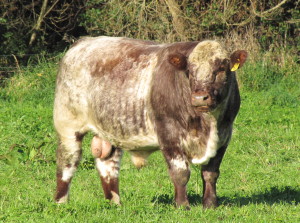 Albie was the top priced bull in our 2012 bull sale selling to Phillip Smith at Rangiwahia. We had used him as a yearling and he sired the top priced bull in our 2014 bull sale to John and Lindy Dobsons Brigadoon Stud as well as two other bulls. We were fortunate that Phillip agreed to loan him back to us for the 2014 breeding season. Albie is a moderately framed thick bull who is very easy doing with a great temperament.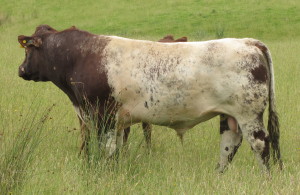 Purchased at David Blackwoods Hinewaka bull sale for the sales top price of $9,800 in 2011. Sired by Sterling Dazzler T5 who did a tremendous job in Davids herd for a number of years and a dam that is highly regarded within the Hinewaka herd. Dazzler was selected for his maternal strength and longevity in his pedigree. We believe replacement heifers retained in the herd will be great producers in the future.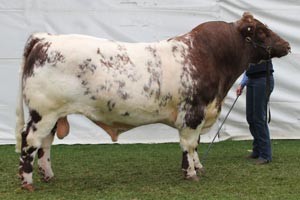 Patriach is sired by the Canadian bull Northern Legend 3N who has done a fantastic job  for Andy Withers at Belmore aswell as at home in Canada. Out of a Kookaburra Dam he is a great combination of genetics. Patriach has tremendous length and muscling and should give us some nice roans. Calves on the ground are looking good and will be fun to watch them develop on.